人気ブログランキングへ
A temporary top is in place and initial bias is neutral for some consolidations first this week. But downside is expected to be contained by 1.3636 support and bring another rise. Above 1.4028 will target medium term trend line resistance at 1.4585.
ActionForexの予想
I am bearish on EUR/USD.
There are many reasons why the Euro became vulnerable. It has already shown signs of weakness by not holding on to 1.40 – a line that is closely watched European officials. In addition, the size of the new American QE program isn't necessarily that big. Uptrend support should be closely watched this week.
ForexCrurnchの予想
Ilian Yotov: The multi-month EUR correction of the H1 2010 losses against the Greenback is still underway, although the recent 19-day non-stop rally of the EUR vs. USD begs the question if this is just a correction or the early stages of a bullish trend reversal. A breakout above $1.40 and a decisive transition into the $1.40's would provide an important clue.
FxSteetの予想
ユーロ週足チャート
ユーロ時間足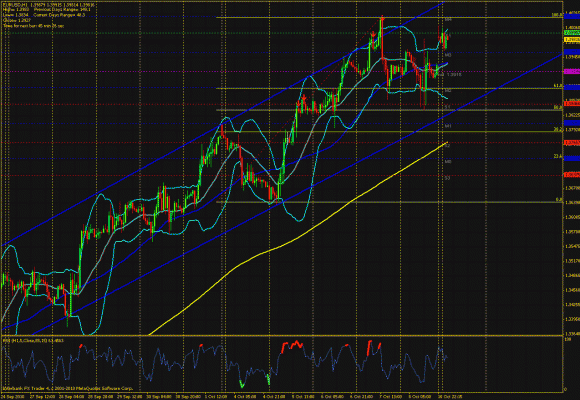 更新の励みになります。
応援のポチッよろしくお願いします♪
海外のブローカーの徹底比較、割引特典もある
海外の電子マネーはPAYPALを介してクレジットカードで入出金をおこなえば簡単